Programme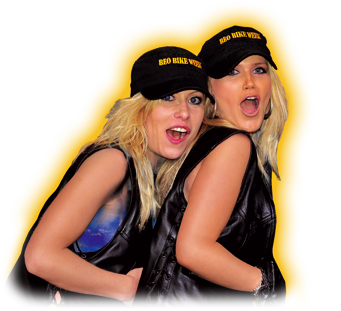 >> Livret de programme (version 2019 en allemand)
Nous avons faits d'énormes efforts toutes ces années, pour mettre un programme sur pieds qui fait chanter haut le coeur de chaque motard. Dehors sur le terrain ou dans la tente. Sur scène nous avons entendus des groupes célèbres mais aussi des noms moins connus:
The Heart of the Georgia Satellites, Jimy Hofer Band, The Pat Savage Band, Lizard, Angy Burri, True Blue, Roots 66, Knopf, The Fallen Angels, The Berserkers, Kick Down, Hamschter, Jargon, Me & the Rest, Hard-Hat, Ghörsturz, Sideburn, Mason Jar, Stars'n'Bars feat. Scarlett, 79ers, Big Deal, Slam & Howie And The Reserve Men, Linda Jacob & The Road Riders, Cricklewood, Blues-Affair, Groove Bandits, Westwood, Deathrope, Skinny Jim Tennessee & Mission Control, Chickenhouse, Stacie Collins, Dean Wilson And The Chilli Poppers, Whiskey Train, Buddy Dee & The Ghostriders, Sweet November, Meena Cryle & The Chris Fillmore Band, Work-Out, Valérie Joy Band, Modern Earl, 2Bad, Hells Belles, Gregory Larsen Band, DoubleD, I-Van & The Cargo Handlers, Shades Of Purple, Lucky 13, Southern Cross et The Scramblers!
Tu peux tester les derniers modèles de moto, admirer le travail de l'aérographe et du bodypainter, donner ta voix aux plus belles motos. Tu peux admirer l'aigle en bois de notre artiste à la tronconneuse, avoir de la pitié avec les victimes de notre tatoueur, élire la nouvelle Miss Beo Bike Week, et plus encore! Plus de 20 fournisseurs de motos de marque, revendeurs d'accessoires, vêtements et bijoux, ainsi que les oldtimers vont faire battre le cœur du motard plus vite tout comme la grande virée du samedi avec restauration gratuite en cours de route. Bien sûr, il y aura aussi les événements "traditionnels" d'une fête de moto, animations et surprises, jeux, Bikerpool etc.