Program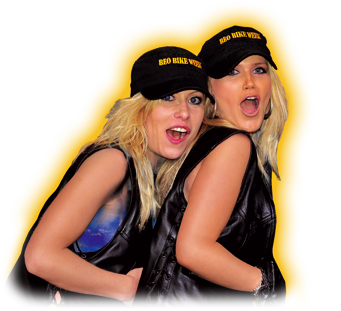 All this years we've avoided neither cost nor effort to gear up a programme guaranteed to make every biker's heart throb like a well-tuned motor. Outside or in the tent. Illustre names in addition, less well-known names stood on the stage:
The Heart of the Georgia Satellites, Jimy Hofer Band, The Pat Savage Band, Lizard, Angy Burri, True Blue, Roots 66, Knopf, The Fallen Angels, The Berserkers, Kick Down, Hamschter, Jargon, Me & the Rest, Hard-Hat, Ghörsturz, Sideburn, Mason Jar, Stars'n'Bars feat. Scarlett, 79ers, Big Deal, Slam & Howie And The Reserve Men, Linda Jacob & The Road Riders, Cricklewood, Blues-Affair, Groove Bandits, Westwood, Deathrope, Skinny Jim Tennessee & Mission Control, Chickenhouse, Stacie Collins, Dean Wilson And The Chilli Poppers, Whiskey Train, Buddy Dee & The Ghostriders, Sweet November, Meena Cryle & The Chris Fillmore Band, Work-Out, Valérie Joy Band, Modern Earl, 2Bad, Hells Belles, Gregory Larsen Band, DoubleD, I-Van & The Cargo Handlers, Shades Of Purple, Lucky 13, Southern Cross and The Scramblers!
Of course there'll be "traditional" events at the next Beo Bike Week: Food and drink stands, Rokker Bar, Bikeshow, Bikeshops, Driving skills, Visits and rallies, Bike contests, Bikerpool etc.
So all you cool dudes and dames - get in the saddle, rev up and ride in! Be sure not to miss the next Beo Bike Week!